A new ship and port simulation centre is to open its doors to Solent University students in June this year. ANDREW LININGTON catches up with the project's progress...
Solent University in Southampton is planning to take seafarer training into the future by opening what is claimed to be the UK's largest and most sophisticated maritime simulation centre in a few months' time.
The cutting-edge ship and port simulation centre at the East Park Terrace campus will include six full-mission navigation bridge simulators and a full-mission engineroom simulator, as well as HV training.
Forming part of the university's overall investment of more than £40m into maritime education and training, the new centre is due to open its doors for business in June.
The facility will also include liquid cargo simulators, on and off-shore crane simulators, GMDSS radio communications and VTS suites, DP simulators, and four multi-purpose desktop simulation classrooms, along with two ECDIS suites and four debriefing rooms/classrooms.
'This new centre has also been designed with the future in mind,' said Lars Lippuner, head of commercial operations at the University's Warsash School of Maritime Science & Engineering.
Everything will be networked for joint exercises between bridge and engine departments, or ship and shore. The simulation centre will also feature hundreds of ship models, which will be used by cadets and maritime professionals alike.
In a fast evolving world it is crucial that students receive the best educational foundation in their initial studies, and are able to expand on it through continuous learning through the professional careers. The new simulation centre will do exactly that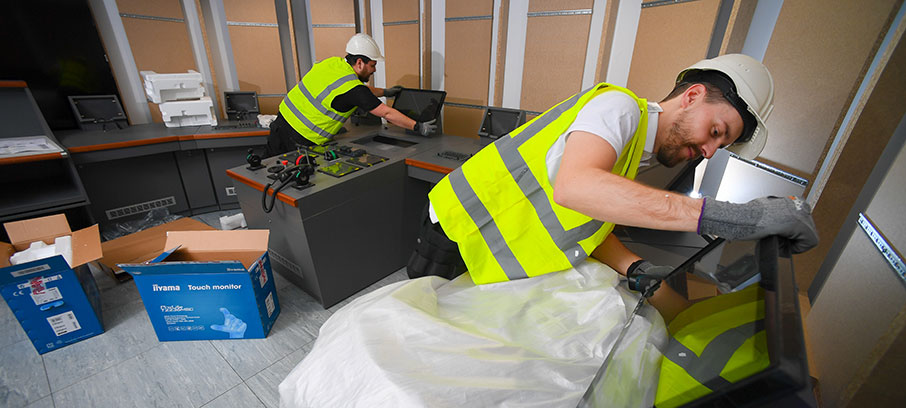 'It will feature a "virtual shipyard", to test ships which are in the process of being designed, or to create digital twins of existing ships,' Mr Lippuner added. 'This allows officers to train in a virtual environment that mirrors their own workplace, further enhancing the experience.'
The virtual shipyard will also be available for students on the University's yacht design and production courses. Students will be able to test their designs in Solent's 60m towing tank and in a virtually unlimited set of environmental parameters.
The simulation centre will also play a pivotal role in the University's maritime research - from Sea Traffic Management to the machine execution of Colregs, and further studies looking at navigational safety and the human-machine interface and operations.
'Digital systems are key to a successful future of the maritime industry and with it there is an undeniable demand for digital skills across the maritime workforce,' Mr Lippuner added.
'In a fast evolving world it is crucial that students receive the best educational foundation in their initial studies, and are able to expand on it through continuous learning through the professional careers. The new simulation centre will do exactly that.'
Wärtsilä began a two-month project to install the simulators in December. 'We are looking forward to delivering a fully integrated solution based on our state-of-the-art training technologies,' said simulation sales expert Alex Ponomarev. 'This is the best recognition of our contribution to professional education and safety in the maritime industry.'
---
Tags