There's a new leader in charge of the Danish officers' union – and he's looking to UK seafaring as a source of inspiration for his members. Andrew Draper reports
Sune Blinkenberg has recently taken up the job as general secretary of the Danish maritime officers' union Lederne Søfart – and high on his agenda is the need to change the way his members are taxed.
Changing the income tax rules for Danish seafarers, with a more flexible regime in line with other countries, would help to create a more level playing field in the global labour market and ensure that they can compete for jobs in the international fleets, he argues.
Mr Blinkenberg, 37, picks up the reins from Fritz Ganzhorn, who was dismissed last October from the union after 20 years as general secretary. The changeover came just after the union, formerly known as SL (Søfartens Ledere), became a member of the Danish managers' association, Lederne. It is not part of the main trade union confederation, LO.
'Right now, the big thing is how we ensure we keep Danish jobs on terms we can agree, and at the level of coming up with agreements including terms our members are satisfied with from a Danish perspective,' he says.
This poses a challenge for the union in how it deals with the shipowners and other stakeholders, and agrees on ways forward for framework conditions for its members. The more they can all agree, Mr Blinkenberg says, the better equipped the union's members will be to do what they want to do in the jobs market.
The recent agreement to extend the Danish international register (DIS) to the offshore sector is to be welcomed, he says, as 'it's the only way we can be competitive as a workforce out there'.
Tax is a headache for his members, Mr Blinkenberg notes, and he says the UK is an inspiration. 'We do look to the UK and how they structure it,' he explains. 'Right now, I believe UK citizens can work anywhere in the maritime sector and not be taxed. The Danish system applies only if you work on a DIS ship. That limits the places we can go and work. When they open up offshore it will open up more potential (work) places.'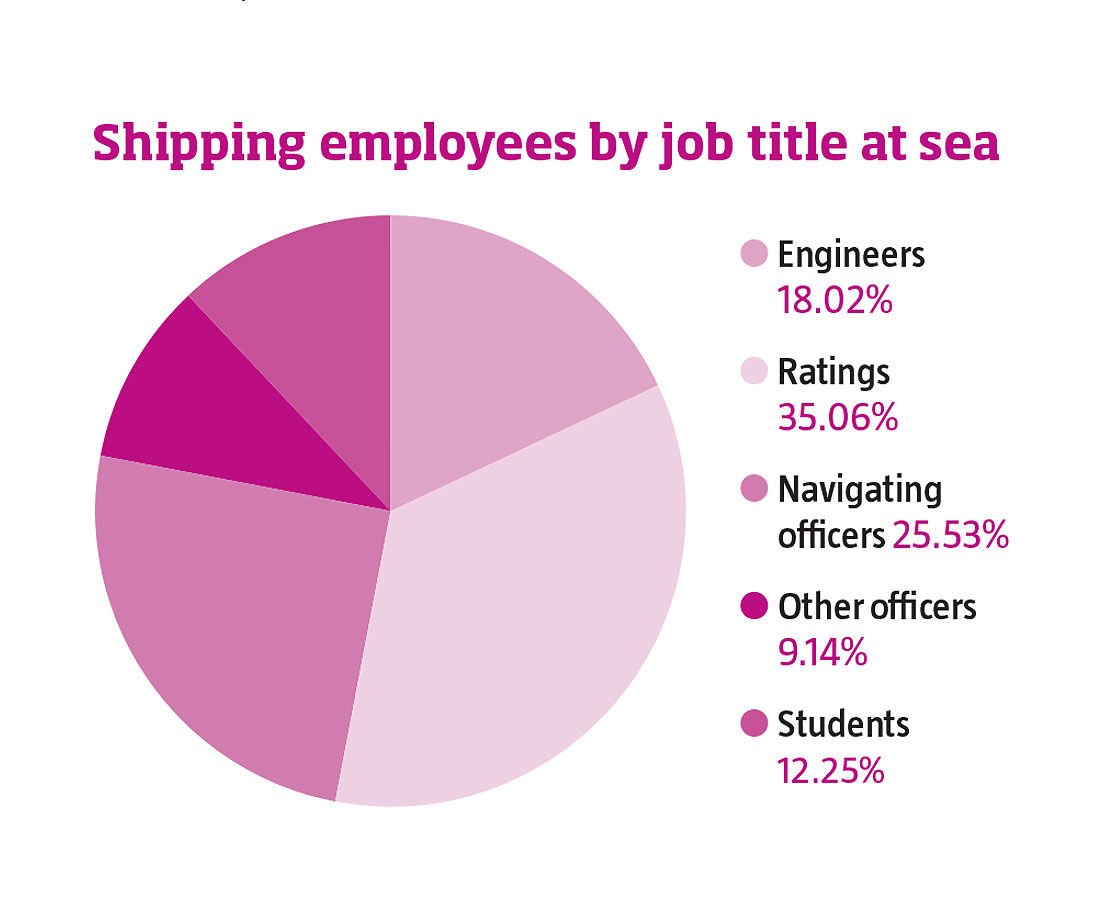 Mr Blinkenberg says it is vital that the Danish government sorts out the long-running issues around net salaries and income tax for seafarers working internationally. He says the union will not be returning to the failed tax case which it brought against owners at great expense.
In November 2016, the Danish Supreme Court ruled that Danish seafarers' net salaries would not be adjusted automatically whenever there was a change in Danes' general taxation.
'We're not coming back to that, it's finished,' he acknowledges. 'In the whole discussion, we'll be advancing our views for making a simpler system politically.'
There has been some debate in Denmark about international taxation of seafarers, so he's hopeful the politicians will be receptive to the union's case.
Mr Blinkenberg, a former shipmaster and holder of an MBA in Shipping and Logistics, is passionate about the role of education and re-education in helping seafarers to progress and to ensure that supply is better able to match demand. 'If we want to keep our proud maritime sector, and we know what we are doing, then we have to be as relevant as possible and we actually need to keep Danish seafarers in the business,' he argues. 'We have to hang on to the knowledge.'
Right now, the big thing is how we ensure we keep Danish jobs on terms we can agree to, and at the level of coming up with agreements including terms our members are satisfied with Sune Blinkenberg, general secretary of the Danish officers' union Lederne Søfart
Mr Blinkenberg says he sees the main risks are not only the globalised market that has reduced the number of Danish seafarers, but also the impact of technology. The number of seafarers needed on a large containership has fallen steeply to around 16 thanks to technological advances, he says, although the decline seems to have stopped now.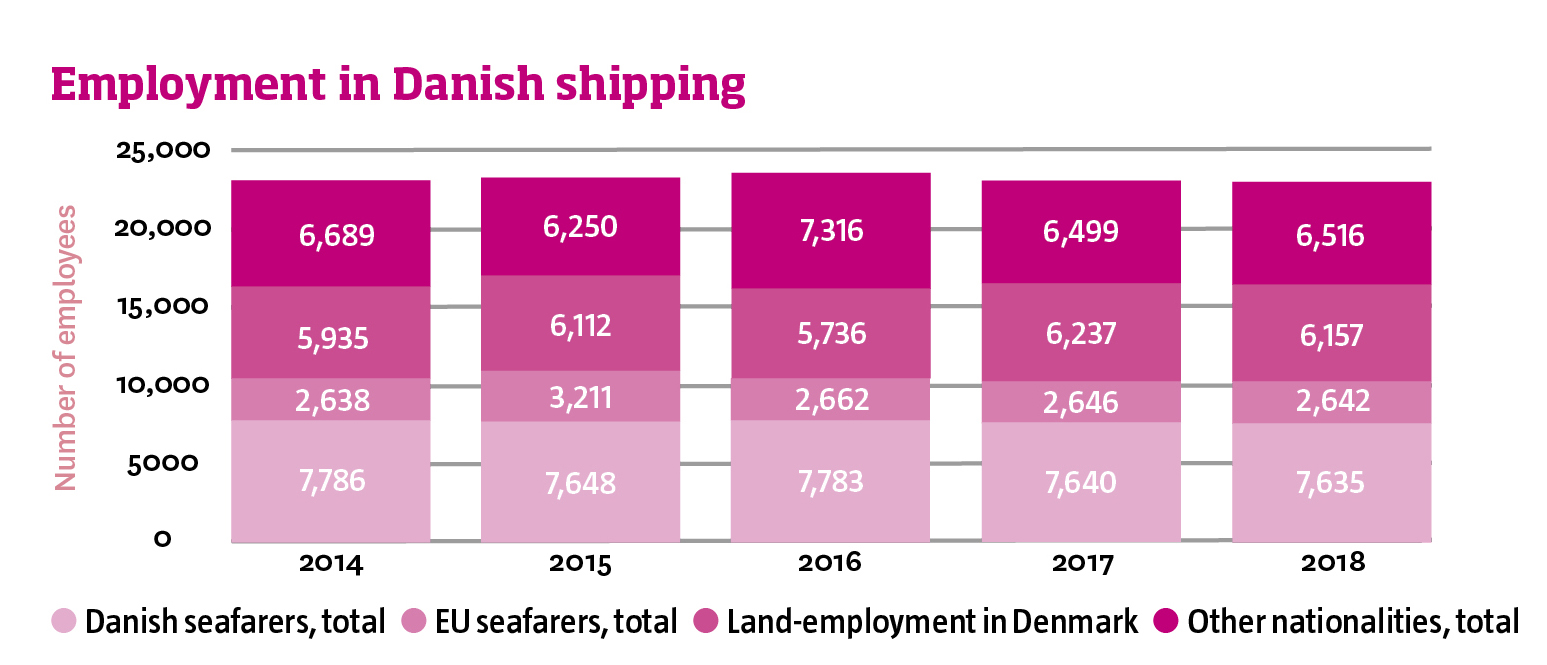 The number of Danes employed in the Danish merchant fleet has begun to stabilise after previous years' declines, according to data from owners' association Danish Shipping (see infographic).
The body registered 7,635 Danish seafarers employed in 2018, five fewer than a year before and 151 down from 2014. Other nationalities are steady at 6,516 (6,499 in 2017), while land-based employees totalled 6,157 in 2018 (6,237 in 2017). EU seafarers remained steady with 2,642 in 2018 (2,646 in 2017).
The Brexit debacle is being keenly followed in Denmark, which joined the EU with the UK in 1973. As it is a small country (population 5m), it is highly dependent on exports, and the UK is a close trading partner. According to employers' body, the Confederation of Danish Industry, the important dairy industry, for example, stands to be hit hard by a no-deal Brexit. Costs and tariffs totalling DKK26bn (£3bn) would hit food exports, two-thirds of which would be in the dairy and related industries.
Despite the headache and potential blow to trade, the owners' organisation Danish Shipping is also confident that a way through will be found for the maritime industry. Director Jakob Clasen has said Danish shipowners will find a way to access and use UK ports, whatever the outcome.
Mr Blinkenberg is cautious: 'We're not sure what the consequences of Brexit will be for the shipping industry, but historically, shipping has always been very good at moving around all these complexities – everyone knows what it's all about,' he adds. 'When it comes to policies, the industry is fairly good at working out how best to do it. I do strongly believe the industry will find the best solutions and keep business running.'
Another priority for Mr Blinkenberg is to foster good relations with other maritime unions. His union has been accused in the past of looking after its own interests and relations with other unions has at times been rather cool. He is getting to know the key players in the other maritime unions. 'To me, it seems everyone is good friends working for the same purpose. No member is interested in throwing mud at each other,' he says.
He will continue to support the work of the DIS contact committee comprising unions and employers and where his union is represented through its president, Bjarne Cæsar Jensen.
Mr Jensen said Mr Blinkenberg was chosen as the new general secretary because he has a strong background in management and business development, as well as in nautical affairs and negotiating agreements.
---
Tags