Mentoring schemes can help the shipping industry to retain seafarers and reduce the pressures of shipboard life. But a new report warns that these schemes are less effective where there are severe time constraints onboard and high staff turnover. ANDREW LININGTON reports on a special research presentation to the Nautilus Council…
The December 2018 Nautilus Council meeting welcomed Solent University researcher and former seafarer Sarah Honebon to present the results of a year-long study assessing the ways in which the industry presently uses mentoring and to identify ways in which 'best practice' schemes can be promoted.
The research – which was supported by Nautilus and funded by the ITF Seafarers' Trust – was developed following a motion to the Union's 2015 General Meeting calling for young members to be given increased information and advice to support them at various stages of their career.
The research team found a wide variety of mentoring schemes in use within the shipping industry, with some very different understandings and attitudes about the practice. 'We got some very confused feedback about what mentoring is,' said Ms Honebon, 'but we agreed to define it as a fundamental form of human development where one person invests time, energy and personal know-how in assisting the growth and ability of another person.'
The research report, which is due to be published in March 2019, notes that the transfer of 'on the job' knowledge is an essential part of the learning experience – with as much as 75% of an individual's skills base coming from outside the classroom or formal training.
'Mentoring – onboard or at a distance – can provide the tools to help employees with confidence, self-esteem and resilience,' it points out. 'Good mentoring can help reduce the stress from other challenging extremes of working at sea.'
However, it also warns of some of the barriers to learning and mentoring relationships – including severe constraints on time, short contracts and high turnover among crews.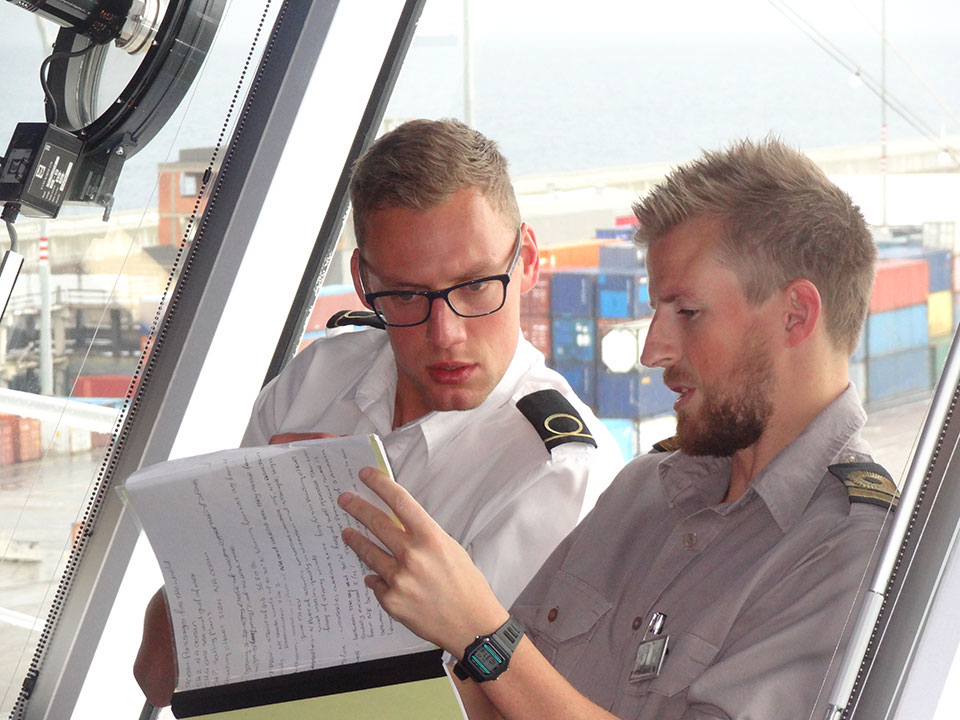 A key part of the research was drawn from a survey of more than 320 seafarers and employers. This revealed 'conflicting views about the description and role of mentoring' and differing interpretations of what constitutes informal and formal mentoring schemes.
Around 30% of cadets and seafarers consider that there is a mentoring scheme in place in their company, while 59% of employers and managers said they did not have an onboard mentor support programme.
We got some very confused feedback about what mentoring is but we agreed to define it as a fundamental form of human development where one person invests time, energy and personal know-how in assisting the growth and ability of another person
Researchers found wide variations in perceptions and knowledge about mentoring schemes within different companies, both among seafarers and management, and the report says the feedback from seafarers suggests 'there are sizeable areas of improvement required regarding training officer identification and responsibility, both on ship and ashore'.
Despite this, the survey showed that employers and managers place a high value on mentoring to support training, career development and safety culture.
The researchers also found significant numbers of seafarers who considered that mentoring could help their personal development and increase their confidence and resilience.
There were also suggestions from seafarers that mentoring could be very useful in later stages of an individual's career – and especially when looking to move ashore. 'Evidence suggested there was inconsistent career and personal development in terms of transferable skills for officers making the transition from ship to shore,' the report states.
Although employers and managers acknowledge that time constraints create barriers, and that stress and fatigue are major challenges, the researchers said little support appears to be in place for officers tasked with training and mentoring. 'There is an imbalance between technical competence and non-technical competence – and not just onboard,' Ms Honebon told Council members. 'How people are treated affects their seafaring experience and their desire to remain at sea.'
She said the research team had been shocked by some of the negativity uncovered in the surveys, and especially over the inconsistency and inequality in the way that seafarers are treated. The research found that, on average, just 55% of cadets and seafarers felt supported by their shipping company during the first sea phase or in a new position. Underpinning this was 'a major concern' over job security and job availability and the challenge of competing for work in a global labour market.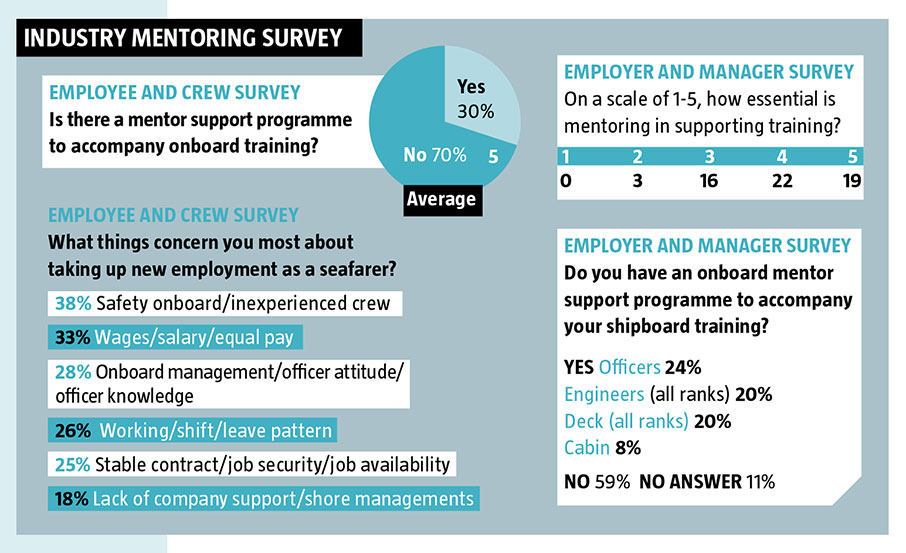 The report says there are various schemes being used by shipping companies and employers – and where such schemes have been put in place, 'there has been significant, positive feedback that has improved expenditure related to health, wellbeing and staff turnover'.
Savings have been generated in terms of reduced vessel damage and off-hire incidents, higher crew retention levels, and improved key performance indicators.
However, it also warns that 'inconsistency, inability, engagement and time constraints onboard and ashore' mean that 'neither mentoring or coaching are working consistently to industry advantage'.
The report identifies some of the 'best practice' programmes that others in the industry could emulate. It points to the programme run by the Honourable Company of Master Mariners, which 'offers a platform and building blocks to initiate human resilience by equipping individuals with experience, confidence and someone to contact without fear of reprisal'.
Other positive examples include:
the Princess Cruises Pipeline scheme to support ratings with potential for promotion
Seaspan's Cadet to Command programme to nurture new entrants to the highest positions at sea and ashore
Wightlink's Bridging the Gap programme to support individuals as part of a long-term plan to strengthen organisational resilience
'Mentoring is a fabulous tool, but it needs a sound platform to work from,' Ms Honebon told the Council meeting. 'You can't just decide to put mentoring onboard and expect it to solve everything, as there will be systemic issues that need to be fixed. There is a need to review leadership and management skills, review that balance between technical and non-technical skills, review human resource management practices and end the silo mentality between ship and shore,' she added.
Council member Jessica Tyson welcomed the research and noted the importance of some of its key findings. 'The time for training has been shortened and officers don't get the time now to establish relationships,' she pointed out.
Nautilus trustee director Steve Clinch agreed: 'Officers used to have much more time to do these things and there is a resistance to taking on a mentoring role because of the pressures on time and smaller crews being asked to do much more with less time. The big question is how to square that circle.'
Fellow trustee director Jim McAuslan said the research had shown the need to champion best practice within the shipping industry. 'However, there is a problem in how to make recommendations that are not resource-dependent,' he stressed.
General secretary Mark Dickinson said Nautilus had supported the research because it recognised the need to support young seafarers and encourage them to remain within the industry. He said the Union will work to encourage the wide-scale adoption of the 'best practice' mentoring schemes, taking the findings of the research to the UK Merchant Navy Training Board and to the forthcoming International Maritime Organisation review of the STCW Convention.
---
Tags