Health and safety
'Weak safety culture' and higher rate of older seafarers in occupational accidents gets MAIB attention
29 May 2020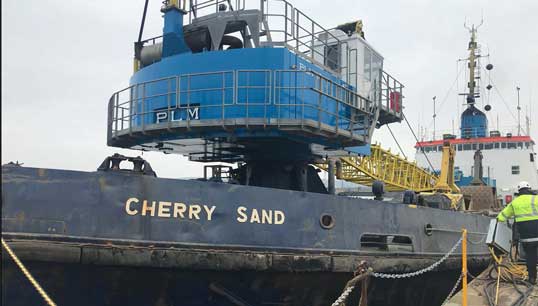 An investigation into the death of a 72-year-old master onboard a UK-flagged dredger has raised concerns about the high rate of accidents involving older seafarers. Andrew Linington reports
Captain Brian Smith suffered fatal injuries when he was crushed between the 1,081gt grab hopper dredger Cherry Sand and a jetty while trying to step ashore during mooring operations in the port of Rosyth in February 2019.
He was serving as a temporary master on the vessel, which was carrying out dredging work in a non-tidal basin in advance of the arrival of the new aircraft carrier, HMS Queen Elizabeth.
The UK Marine Accident Investigation Branch (MAIB) said it was concerned that both UK Dredging and Clyde Marine had failed to spot 'notable errors and omissions' on the master's ENG1 medical certificate, which wrongly stated that he was not fit for lookout duties and did not indicate his visual acuity.
Capt Smith had monocular vision and wore a prosthetic lens in his right eye without which, the MAIB noted, his depth and distance perception would have been negatively affected.
The report said it was possible the master misjudged the distance to the quay, although there was no certainty that he was not wearing the lens at the time.
Investigators said there had been a similar incident only a month earlier, when a 67-year-old chief officer was injured as he attempted to step ashore from Cherry Sand during a self-mooring operation.
More than 40% of the seafarers who had lost their lives in the occupational accidents it has investigated over the past five years were over 50 years old, MAIB said.
'Over the same period, the four persons who lost their lives while attempting to step on/off during mooring operations were between the age of 58 and 72,' it said.
The report highlighted Health & Safety Executive guidance which warns that older workers may experience more slips, trips and falls than younger workers, and recovery following an injury may take longer.
MAIB said it was clear that a more thorough assessment of Capt Smith's physical abilities had been required before he could work as a member of the deck crew and, specifically, to take on the role of stepping ashore to moor the vessel.
The report said a post-mortem had revealed evidence that Capt Smith had heart disease, which might have led to sudden cardiac arrest at any time, although this was not considered to have contributed to his death.
Investigators said there was evidence of a weak safety culture onboard Cherry Sand -- notably with a 'ready acceptable of a sub-optimal mooring method that put the crew at risk as they stepped ashore to take lined before the dredger was tight alongside' -- and the report recommends that Associated British Ports reviews its audit programme to ensure a common approach to safety and adherence to operational procedures across the UK Dredging fleet.
MAIB also called for the Maritime & Coastguard Agency to amend the Code of Safe Working Practices for Seafarers to include guidance for the safe completion of mooring operations including, the circumstances when it is permissible for crew to carry out self-mooring operations and the considerations that should be taken into account before deciding that it is safe to dispense with linesmen ashore or on the adjacent vessel.
---
Tags