Community
Working with charities: no seafarer should feel alone, says master mariner befriender
21 May 2020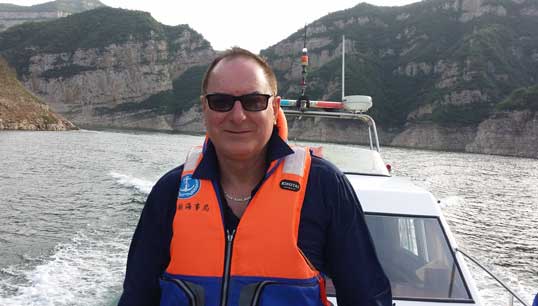 Due to the outbreak of the Covid-19 pandemic, mental health issues, both on land and at sea, have come increasingly entered the public's awareness. As part of Mental Health Awareness Week, Nautilus is providing a voice for those working on the frontline for crew wellness.
Captain David L Watkins spoke with UK P&I Club crew health programme director Sophia Bullard about his roles, responsibilities and current challenges in his work for Befrienders Worldwide, an organisation which runs a suicide prevention helpline.
David spent 28 years at sea, including 12 years in command of VLCC, cape size, container ships and general cargo feeder ships. He came ashore in 2004 to work as a fleet safety security and environmental manager, before taking up the position of QA manager and DPA, responsible for the safety of 52 ships.
What inspired you to get involved with Befrienders Worldwide?
Befrienders Worldwide (BW) is the largest umbrella organisation providing emotional support around the world, with over 350 branches operating in 35 countries. With my background as a seafarer, I have travelled all over the world, and when I retired I had a strong desire to continue connecting with people. With my association with BW in my previous company, it was a natural connection to make.
Tell us about of the average day as a helpline operator at the charity.
All branches work on a shift system, with some branches operating 24/7, and others working limited shifts patterns due to resource limitations. The standard shift is about four hours followed by an offloading period to a dedicated shift leader. Calls will vary and you never know what you will be confronted with, although recently there have understandable rise in calls about the Covid-19 pandemic.
All callers' conversations remain confidential and the callers remain anonymous. Certain shifts can be emotionally demanding, and you can feel very drained sometimes, but equally you can feel uplifted when a caller expresses gratitude for just being there to hear them. The support mechanism within the organisation is excellent, with fellow volunteers offering mutual support and a listening ear.
When is your busiest time of the year?
Holiday times are a particularly busy period, especially as the contrast between family and friends coming together can vary starkly with those who have nobody to speak to, however, it is fair to say that all branches are busy with a steady demand.
What is the most common issue that seafarers seek help with?
At the moment, nearly all seafarers crave knowledge that their family and friends are safe. Uncertainty around the length of their tour of duty, caused by difficulties in repatriation from a port whose country is in lockdown, can cause a rapid rise in anxiety and often depression.
What is the most rewarding aspect of your job?
Connecting with our branches all over the world is particularly rewarding, not least because of how proud it makes you feel being part of a family of volunteers dedicated to helping those who in crisis, or, who just need to be heard.
Do you see technology as a help or a hindrance to seafarers' mental health?
I am a supporter of technology being made available to all seafarers, especially in order to provide every seafarer with connectivity with their family and friends. As with all communications, it must be used proportionately while at sea.
What advice would you give to any seafarers who are suffering from mental health issues?
Knowing the signs of what constitutes a mental health issue is a first step. Regrettably, not many seafarers recognise symptoms or signs exhibited by their colleagues.
Inevitably, crew can feel lonely, isolated and disengaged from the ship due to any number of concerns. Being able to talk to a close crew member is often a great source of comfort and a lifeline for crew who experience mental health problems. Just being listened to is often all that is required to be able to see something with more clarity, and relieve anxiety and stress.
No seafarer should feel they are alone. There are several charities who are dedicated to providing a safe place where you can talk to someone who will listen to your concerns.
This Q&A was published in partnership with UK P&I Club crew health programme director Sophia Bullard. She is also a Global Ambassador for the Sailors Society, and has been involved in many crew wellness projects with seafarer charities such as Sailors Society, ISWAN, Apostleship of the Seas and Mission to Seafarers.
---
Tags