Centaur
Launched in June 1963, the Blue Funnel passenger- cargo vessel Centaur had unusual looks that reflected some of the demands of the service it was specially designed to operate on.
Where was Centaur built?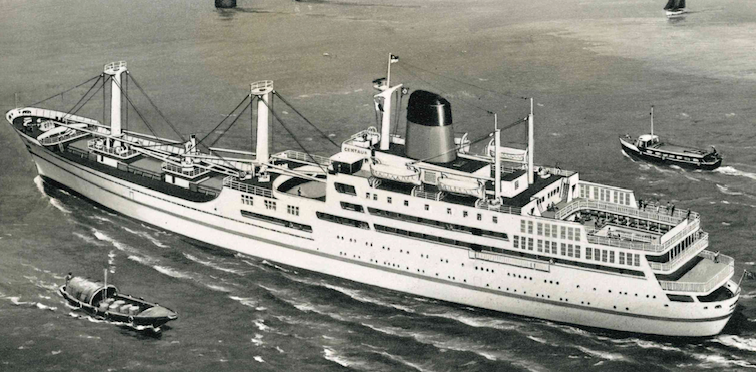 Built by John Brown & Co of Clydebank, at a cost of £2.5m, Centaur was designed to carry up to 200 passengers, 5,000 animals, and liquid, refrigerated and general cargoes on a regular service between Fremantle, Western Australia, and Singapore.
The flat bottom structure of the 8,262grt ship was designed to withstand the stresses of the vessel being aground while loading cattle every three weeks at the ports of Broome and Derby, which both had tidal ranges of up to 25ft.
The first ship to be designed for Blue Funnel by the renowned naval architect Marshall Meek, Centaur had been ordered as a replacement for the two elderly ships, Gorgon and Charon, and made its maiden voyage from Liverpool on 20 January 1964, arriving at Sydney on 23 February. Before entering into service on the regular run, Centaur spent a few months on charter to the Australian Chambers of Trade, visiting Asian ports to promote Australian products.
Of 480ft 9in loa, Centaur was powered by two turbocharged Burmeister & Wain engines, of the Poppet valve design. Each engine had 11 cylinders, producing a total output of 16,500bhp at 180rpm, and the ship had a service speed of 20 knots.
What was the capacity of Centaur?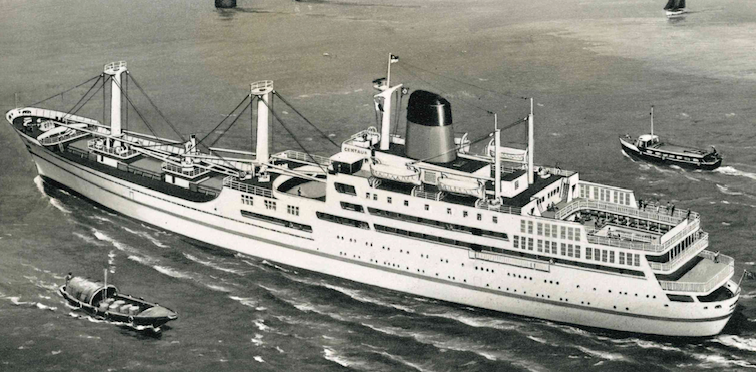 Centaur was considered an expensive ship, but quickly proved very popular with passengers. There was accommodation for up to 196 people, and a crew of 98. The ship was fitted with adjustable spaces for carrying up to 4,500 sheep in two tiers of pens or 700 cattle in a single tier of pens. The pen arrangements could be quickly changed by stowing the aluminium platforms on which the upper tier of sheep stood under the beams of the deck above.
The vessel featured a ventilation system taking air into the livestock spaces from two masts forward of the bridge and discharging foul air through the funnel.
Some 40 dairy cows were regularly carried as cargo from Australia to Malaya and they were milked twice daily by the Asian deck crew, providing fresh milk and butter for passengers and crew. Originally owned by Ocean Transport & Trading Company (Alfred Holt & Co), Liverpool, Centaur was transferred to the Alfred Holt subsidiary, China Mutual Steam Navigation, and re-registered to Singapore in 1973. In 1978, the ship was switched from Eastern Fleets to Blue Funnel (SE Asia).
What deployments was Centaur sent on?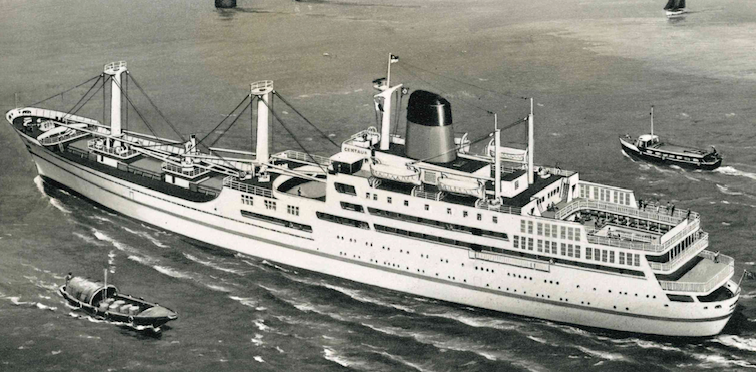 During the 1970s, passenger numbers began to drop as a result of increasing air travel, and in 1979 Centaur was switched to a new service, running between Fremantle and Hong Kong via Manila and Singapore. In September 1982 the ship left Fremantle for the last time, having carried more than 73,000 passengers, 1.1m sheep and 17,700 cattle in its career.
In the following year Centaur was chartered to the St Helena Shipping Company to replace RMS St Helena, which had been requisitioned by the UK government for the Falklands task force. High operating costs meant Centaur was not chosen to operate the St Helena service on a long-term basis, and after a period in lay-up the ship was sold to a Chinese company, renamed Hai Long, and deployed on a service between Shanghai and Hong Kong. Renamed Hai Da in 1986, the ship remained in service until going for demolition at Guangdong, China, in 2006.