Tokyo Bay
In the mid 1960s, the British shipping companies P&O, Ocean Steam Ship, Furness Withy and British & Commonwealth combined to form Overseas Containers Ltd (OCL) in a strategy to generate the huge funds needed to containerise shipping services between Europe, the Far East and Australia.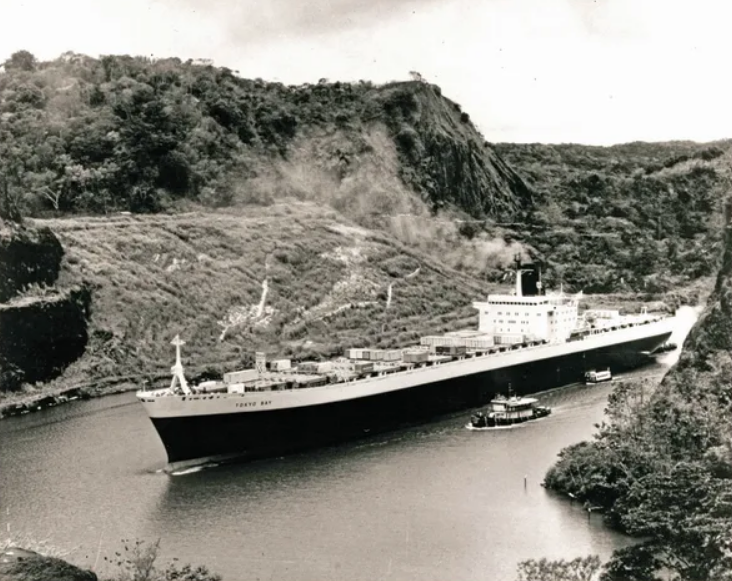 Fact File
| | | |
| --- | --- | --- |
| Where was the Tokyo Bay Built? | How big was the Tokyo Bay? | How many crew were needed to man the Tokyo Bay? |
| The Tokyo Bay was built in Hamburg by Howaldtswerke-Deutsche Werft. | At 289.57 metres long, with 8 holds designed to accommodate 1944 containers. | 38 |
The Build
Built in Hamburg by Howaldtswerke-Deutsche Werft, Tokyo Bay's design drew from the teething problems experienced by OCL's Encounter Bay class on the Australian run, with changes to the bow and hull shape intended to reduce pitching and torsional movements in heavy seas. Of 289.57m (950ft) loa, Tokyo Bay was originally powered by two Foster Wheeler ESD III roof-fi red boilers supplying super-heated steam to twin Stal-Laval cross-compound turbines, each developing 40,560shp at 136rpm. The twin-screw vessel had a service speed of 26 knots – although it reached 30.06 knots during trials – and was fitted with two transverse bow thruster units and a set of activated fin stabilisers of 80 tons lift each side. The bridge layout was finalised after a full-size mock-up was built to optimise the location of the equipment to reflect different navigational demands during coastal and general at-sea operations.
"The twin-screw vessel had a service speed of 26 knots – although it reached 30.06 knots during trials..."
When launched, Tokyo Bay's eight holds were designed to accommodate 1,944 containers stowed in cells 10 wide across the ship and nine high. The remaining 356 were stowed on the hatch covers, stacked three high and 13 wide across the vessel. The ship initially ran with a crew of 38, and the master, chief officer, senior second officer and junior second officer all held master's certificates. There were also three first-class certificate holders in the engine department. In 1981 Tokyo Bay was fitted with new engines – two eight-cylinder Sulzer diesels – at the Mitsubishi Heavy Industries yard in Kobe.
Deployments
The OCL vessel Tokyo Bay was the first of a new generation of £10m British containerships for the Far East run and was initially deployed in the Trio Lines consortium, formed by two British companies, two Japanese operators and a West German firm. Claimed by OCL to be the largest and most powerful containership yet built when launched in 1972, the vessel was of 59,068 gross tons with a capacity for some 2,300 20ft containers, and was said to be capable of doing the same work as up to eight conventional cargoships.
While sailing to the breakers in Alang, India, as the Jay Matadi and under the St Vincent & Grenadines flag, the vessel suffered an engineroom fire in the South China Sea. The crew had to be evacuated onto the P&O Nedlloyd Barcelona and the ship had to be ignominiously towed to Singapore before demolition in October 1998.
"[Tokyo Bay] was said to be capable of doing the same work as up to eight conventional cargoships..."
Ownership
In November 1984, the vessel was sold to the Chase Manhattan bank and leased to OCL and in June 1986 P&O acquired OCL, turning the resulting fleet into P&O Containers Ltd (P&OCL). Between 1991 and 1995, Tokyo Bay's ownership shifted between P&OCL and Howill Shipping, and in April 1996 the vessel was flagged out to Bermuda just a few months before being chartered to Neptune Orient Line and renamed NOL Steno. The ship served on NOL's services between the US east coast and the Far East for almost two years, before returning to P&O Nedlloyd in February 1998. Renamed P&O Nedlloyd Tokyo, the vessel was sold for scrap only six months later.