The UK maritime welfare sector relies on the hard work of volunteers and charity staff – and each year some individuals show an outstanding level of dedication. The 2018 Seafarers' Welfare Conference paid tribute to four of the maritime community's finest…
Former seafarer and ex-deputy prime minister Lord Prescott presented a series of awards at the 2018 Seafarers' Welfare Conference to honour exceptional service to crew welfare.
Lord Prescott – who is patron of the Merchant Navy Welfare Board – said he had been proud to serve as a seafarer and to have used his time in politics to secure such things as the tonnage tax and inquiries into the loss of the bulk carrier Derbyshire.
He paid tribute to the work of maritime charities in caring for crews and said the need for their support remains strong, despite the sweeping changes in the shipping industry.
The first award for exceptional service to seafarers' welfare was presented to Alexander Campbell, who has been chief executive of the Queen Victoria Seamen's Rest in London for the past 15 years. 'During that period he has completely transformed the building to provide a very high standard of accommodation for those who have served in the Merchant Navy, whether they be retired or active,' said MNWB chief executive Peter Tomlin.
Mr Campbell was also praised for his work to turn the London Tilbury Seafarers' Centre into a 'modern, fit-for-purpose facility' that is open on a 24/7 basis throughout the year, meeting the needs of visiting crews and 'setting an example for other ports to follow'.
An exceptional service award was also presented to Commodore Barry Bryant, director general of Seafarers UK for the past 16 years. Described as 'a passionate champion of seafarers' welfare and their entitlement to the very highest standards of care and support', he was honoured for his 'outstanding professional and personal commitment to the many and wide-ranging welfare needs of the maritime community'.
A passionate champion of seafarers' welfare and their entitlement to the very highest standards of care and support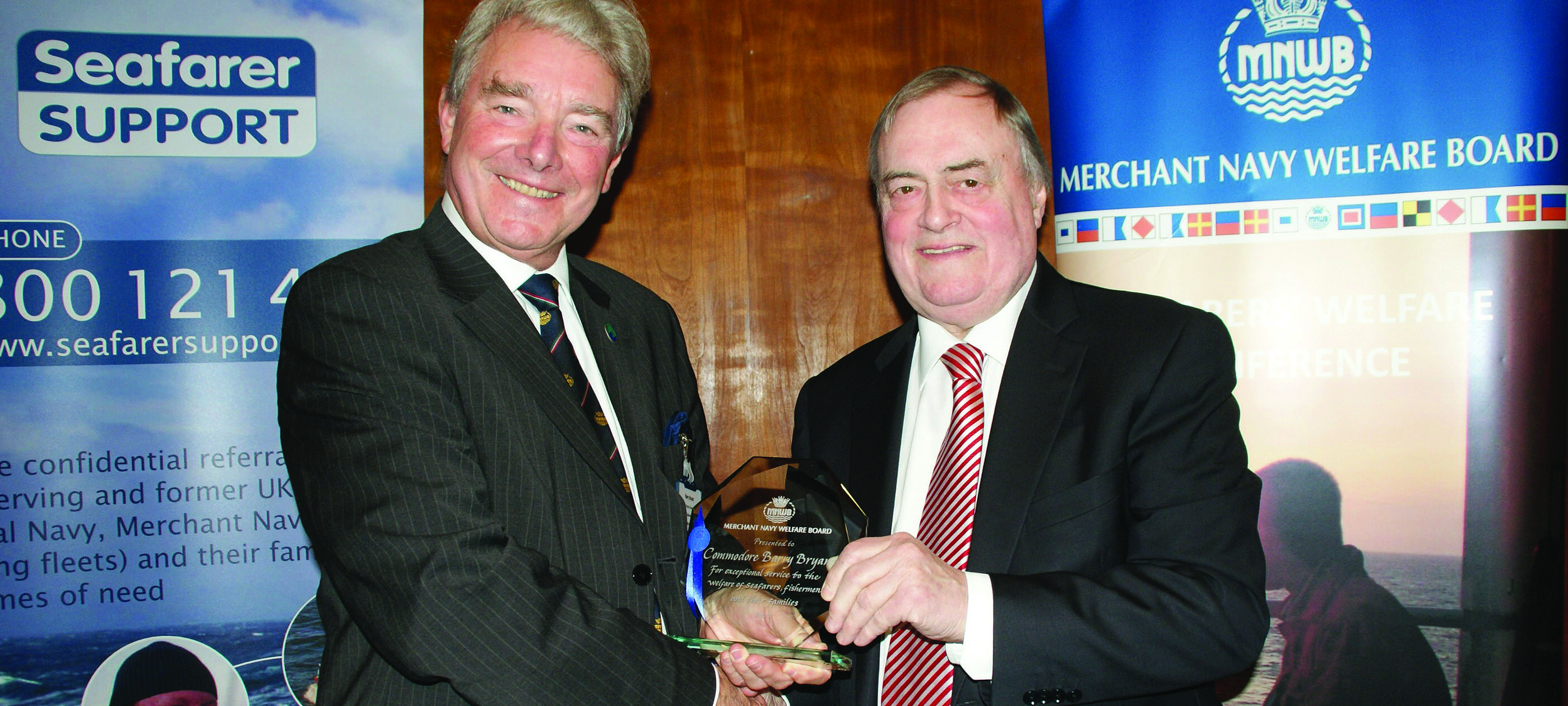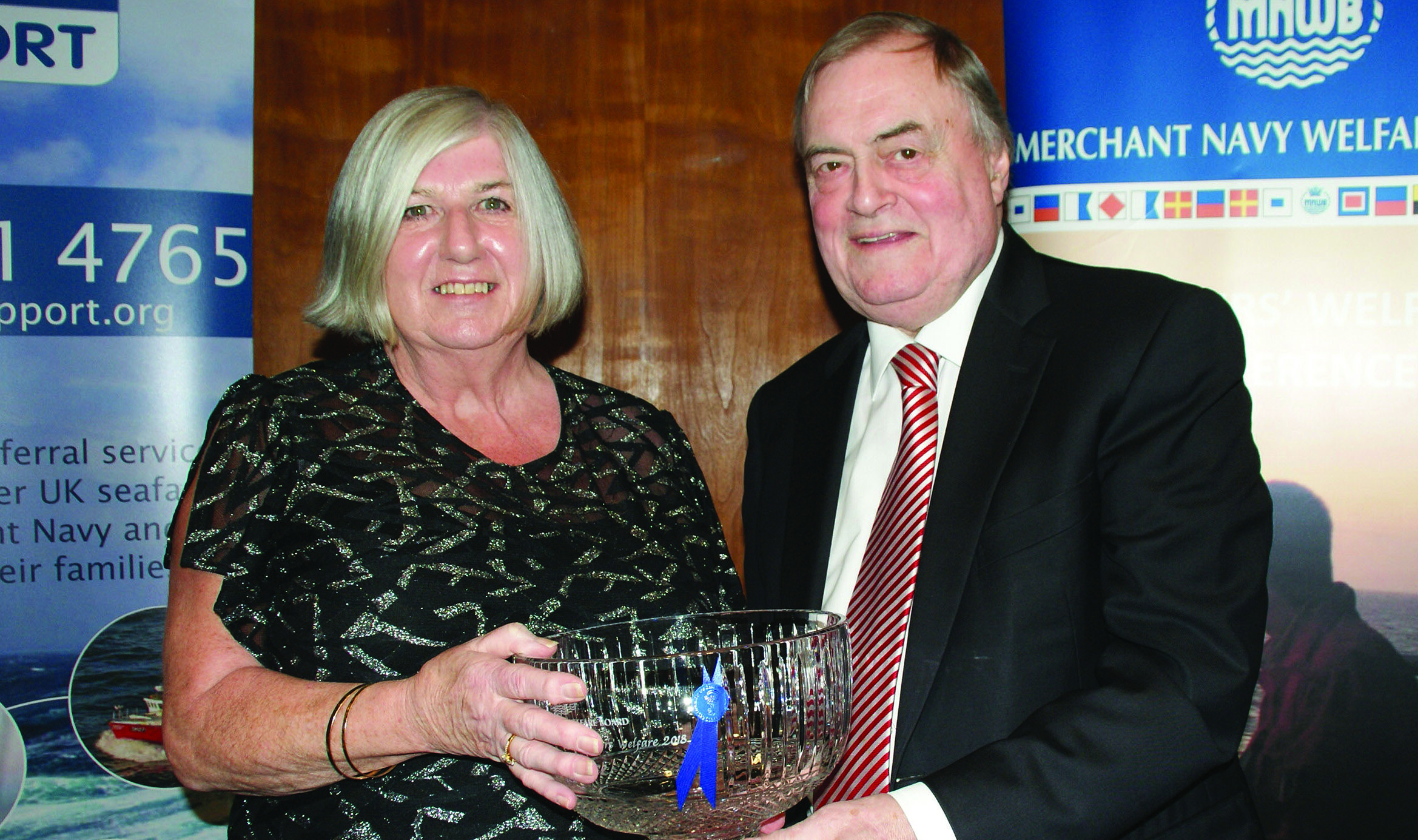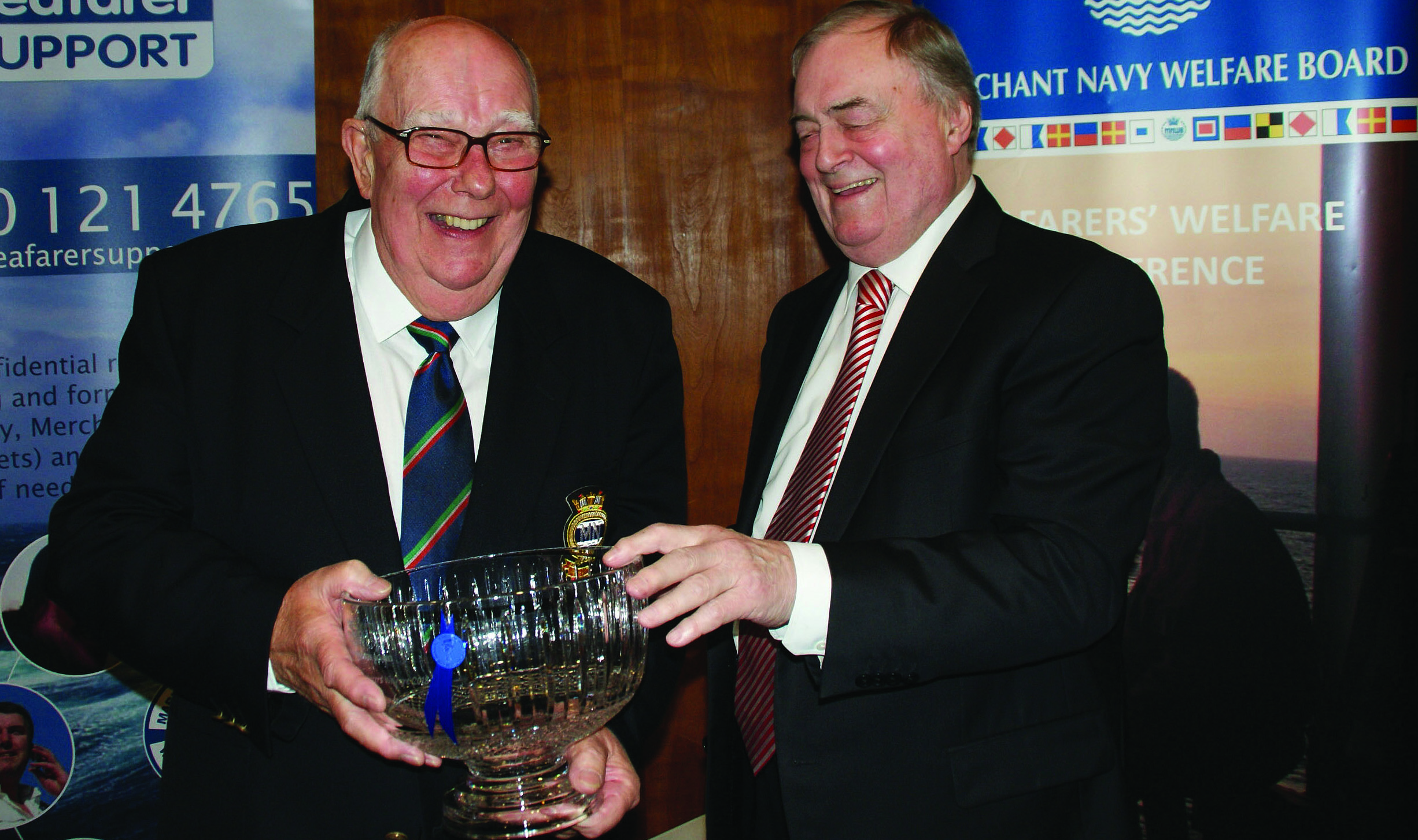 Lord Prescott also presented two MNWB annual awards for services to seafarers' welfare. The first went to Ina Bruce, chair of the Watch Ashore's Glasgow Branch and an active member of the MNWB port welfare committee for Central and the West of Scotland.
'Married to an ex-master mariner and having accompanied him to sea on a number of deepsea voyages earlier in her life, she is well placed to understand the pressures seafarers and their dependants have to cope with during many months of separation,' Mr Tomlin noted.
As well as actively supporting the Scottish Nautical Welfare Society, Mrs Bruce has raised funds for maritime charities and helped organise an event to bring first-trip cadets together with retired and serving seafarers, port chaplains and others at City of Glasgow College.
The second annual award was presented to former engineer officer Alwyn Bamford, the Mission to Seafarers centre manager at Port Talbot, Wales. Mr Tomlin said Mr Bamford – who is in his 70s – goes to the port every day to assist visiting seafarers and to provide 'a warm welcome, a shop with practical items and an all-important listening ear for those who have been at sea for sometimes 50 days or more'.
The award commends Mr Bamford for being 'a tireless advocate for seafarers and their dangerous, difficult, and sometimes lonely jobs'. Mr Tomlin added: 'In busy times, he will work maybe two weeks or more without a day off. Driving in the dark, through rain and snow to reach the club, he coordinates those who visit the ships and provides them with information and gifts for seafarers.'
Top of page image: Alexander Campbell, chief executive of the Queen Victoria Seamen's Rest, was presented with an award for exceptional service to seafarers' welfare by former deputy prime minister John Prescott.
---
Tags