Health and safety
ISWAN video promotes mental health coping strategies for seafarers affected by coronavirus quarantine
25 March 2020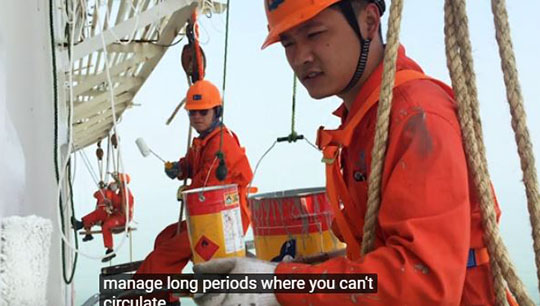 The International Seafarer Welfare and Assistance Network (ISWAN) has produced a video to help seafarers cope with the stress of Covid-19 restrictions.
On the video counselling psychologist Dr Kate Thompson reassures seafarers they already 'have well developed skills to stay safe and well, that we in the general population do not have'.
'Seafarers have special strengths that will serve them well when at sea during the coronavirus,' Dr Thomspson says.
'When it comes to coping with being confined to vessels under quarantine, you already have the ability to manage long periods of time when you cannot circulate freely, because you are onboard a vessel, or times when you do not see your close family for months on end.
'And, you also know how to manage boredom by managing to stay connected to the people around you, as well as how to stay connected remotely and have some activities that you can enjoy on board, [factoring in important social distancing needs].
'Please do draw on your strengths and share them with other so we can all manage the pressure and boredom of the coming weeks.'
Dr Thompson urged all seafarers to look at existing resources and guides produced by ISWAN to help with stress and mental health issues.
Port chaplains and welfare workers are well placed to understand what seafarers are going through. 'Even if these workers cannot come onboard they are often at the end of a phone with a listening ear to help you through this difficult time.'
Seafarers that have been diverted as a result of port closures need to try to achieve a balance of safe social distancing activities and quiet time, added Dr Thompon, 'whether that is exercise in your cabin or a run around the deck.'
Crew feeling the effects of the intense pressures of being under quarantine also need to let their employer know. It is important for designated safe places to be set up onboard.
Nautilus members who are concerned or are experiencing difficulties related to the coronavirus outbreak are advised to contact their industrial organiser for assistance. In an emergency members can also contact the Nautilus 24/7 helpline.
More Nautilus assistance and our coronavirus resource hub can be found on our Assistance page.
---
Tags